How do I sell tickets online?
You need to create an event before you can start selling tickets online. To learn how to create an event, check out How can I create an event on Eventyay. Once you have done so, follow these steps to set up tickets and payment for your event.
Log in to your acocunt on Eventyay. Then select Manage Events from the dropdown menu under your profile.

Go to the event you want to sell tickets and click on Edit.

You will be directed to a page where you can edit Basic Details for your event. Scroll down to Ticketing System. There are 3 different ticket categories you can choose from: Free Ticket, Paid Ticket and Donation Ticket. You can add different ticket types for each category, as below:
Make sure to provide input for all required fields, including: Ticket name, Price (except for Free Ticket) and Quantity. Then you can click on Settings to configure other information (of each ticket) as in below: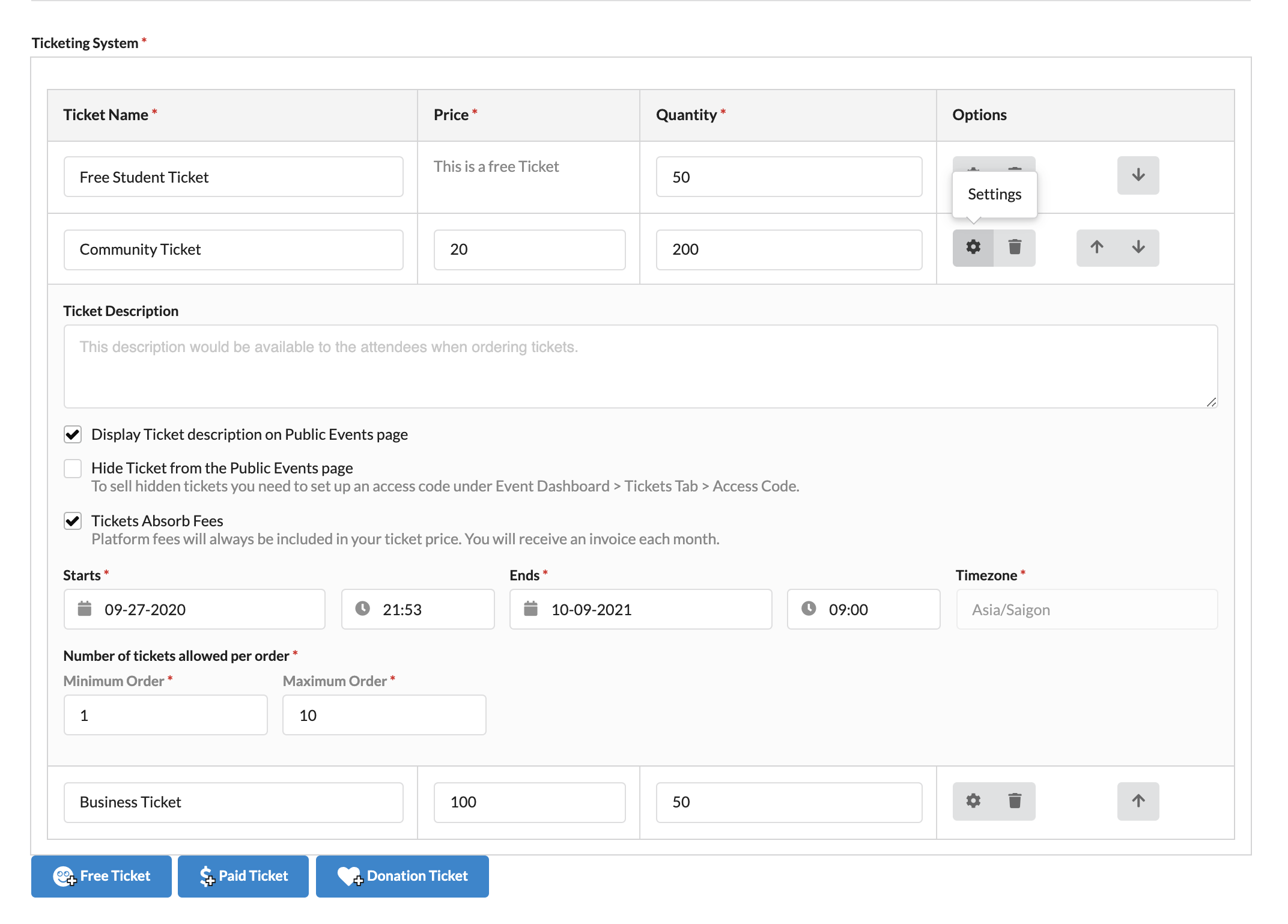 Notice:
Platform fees will always be included for paid tickets.
You need to set the start/end - date/time for your tickets correctly.
You can control how many tickets can be purchased in one order by setting the min/max number.
After setting up Ticketing System, you need to Add Payment Details (as below) in order to start selling tickets on Eventyay.
Notice:
Select country where your payment accounts are registered in and select the currency you want to apply for your tickets.
Choose payment methods: online/offline or both and follow instruction in each method to complete the set-up.
Add tax information if needed
After you finish, click Save to save your changes or publish your changes right away using the Publish button. You can also preview your changes in draft stage, simply by clicking View button. You'll see how your event would look like on the public events page once published.